The Stockholm +49 Summit
Reading time : 2 minutes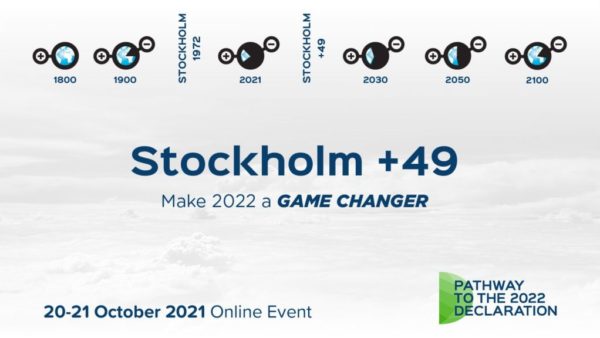 On October 20 and 21, world-renowned scientists, economists, lawyers, activists, and diplomats will discuss possible legal and governance solutions to the environmental crisis.
2022 needs to be a game-changer for the environment. Throughout this year, governments will adopt a Declaration that will need to open a new pathway that can build hope for the next generations.
Speakers will include Inger Andersen (Director General of UNEP), Laurent Fabius (Former Chair of COP 21), Maria Fernanda Espinosa (President of the 73rd session of the UN General Assembly), Izabella Teixeira (former Minister of Environment of Brazil), David R. Boyd (UN Special Rapporteur on Human Rights and Environment) and James Alix Michel (former President of the Seychelles).
In 2022, world leaders will adopt a high-level declaration to commemorate the 50th anniversary of the world's first major environmental summit: the Stockholm Conference. 
The Stockholm Conference marked a turning point for the environment. It laid down the basis of environmental law and led to the creation of the United Nations Environment Programme. 
50 years later, Stockholm +50 needs to open a new window of hope for a constructive approach to the climate and biodiversity emergencies and lay down a plan to restore a well-functioning Earth System.   
Stockholm+49 aims to start the countdown for civil society to contribute to a promising Declaration. Parallelly to the ongoing official negotiations, civil society will work on a draft Civil Society Declaration to help deliver a meaningful outcome in 2022. This Declaration needs to be a game-changer to boost the transition from a destructive economy to a regenerative and more equitable world.  
This is why the Global Pact Coalition, Common Home of Humanity, Stakeholder Forum for a Sustainable Future, 2022 Initiative Foundation, and Instituto Internacional de Derecho y Medio Ambiente- International Institute for Law and the Environment (IIDMA), in partnership with a growing network of organizations, are launching the Stockholm+49 Summit.  
The Stockholm+49 Summit will kick off the discussion on what the 2022 Declaration should contain. We need to start acting now to strengthen environmental governance and law, to build a global framework that supports, coordinates, and monitors the implementation.